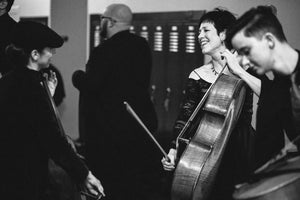 Diane Chaplin
Diane Chaplin is a world-class cellist and nurturing music educator in Portland, Oregon, who can be heard in solo and chamber music performances across the globe. Diane has taught at Yale University, Bard College, Oberlin Conservatory, and has given master classes in the U.S., Canada, Mexico, The Netherlands, Bosnia and Russia.
She received a Master of Music degree from The Juilliard School, and she holds a Special Prize from the International Cello Competition in Viña del Mar, Chile, and a Certificate from the International Tchaikovsky Competition in Moscow.
As a member of the Colorado Quartet for twenty years, Diane performed in more than 20 countries. The Quartet was the first all-female string quartet to perform the complete Beethoven Quartet cycle in both North America and Europe and their critically acclaimed recordings of these works can be heard on the Parnassus label.
Diane has written many arrangements of classical pieces for the Cello Project, and her glorious playing can be heard on most of the group's post-2012 recordings. She is featured as the lead on the Cello Project version of Elgar's Cello Concerto, many of the Elliott Smith and Taylor Swift covers, "Love Me or Leave Me," by Nina Simone, and much more. We are grateful for her dynamic musicianship, professionalism, and leadership over the last decade.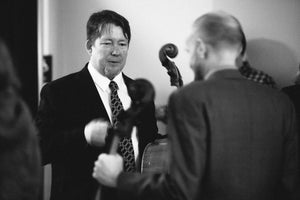 Skip vonKuske
Cello Project founder and studio musician with hundreds of album credits, Skip vonKuske is a highly skilled and versatile artist known for his exceptional talent in blending classical cello techniques with modern music elements. With a deep understanding of both traditional and contemporary music, Skip pushes the boundaries of musical expression, captivating audiences worldwide. His innovative performances and compositions showcase a unique fusion of genres, creating a mesmerizing and immersive sonic experience.
Skip's fiery and distinctive playing is evident on almost all Cello Project recordings. When you hear an improvised solo take off, it's most likely Skip vonKuske.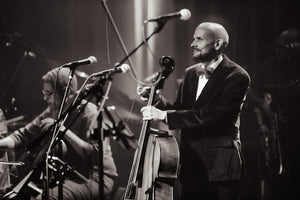 Douglas Jenkins
Artistic Director, and show emcee for The Cello Project, and arranger of over 1,300 pieces of music in the group's repertoire. Doug's management philosophy is to direct attention away from himself and do everything possible to bring out the strengths of each individual member in order to make a stronger whole.
He does this to the point that he often neglects to introduce himself when addressing the audience.
In keeping with that philosophy, he'd like to turn this bio into a scavenger hunt contest about the other members of the group. The first couple of people who email the correct answers to the following questions will get a free T-Shirt.
1: Which cellist or collaborator apparently submitted their bio for this page using ChatGPT?
2: Which cellists still active with The Cello Project and featured here are considered founders of the group?
3: Which cellists featured here devote a large portion of their time to education and community engagement?
Email Doug Your Answers!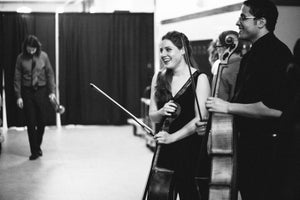 Lauren McShane
Lauren McShane is a freelance cellist and teacher in Seattle. She performs regularly with Portland Cello Project, Seattle Rock Orchestra, and Seattle Metropolitan Chamber Orchestra.
In addition to performing, Lauren is passionate about teaching. She believes that curiosity should lead learning; and each student has a unique way of engaging with the world that can facilitate learning. She also believes music should be taught in a positive atmosphere, motivated by musical, emotional, and technical growth. She teaches a full private cello studio, alongside Holy Names Academy, Snoqualmie Strings, and is faculty at Icicle Creek Summer Symphony.
If you see head-banging on stage, it's probably due to Lauren's influence and inspiration.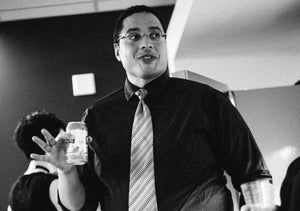 Kevin Jackson
Kevin did not submit a bio, so Doug wrote one for him.
At Cello Project shows, you can find Cello Project founder Kevin Jackson sitting center stage, right in the middle of the cello section. Often quiet and stoic, Kevin has been a grounding force in the group since its beginning and has not once in over 15 years lost his cool through thick and thin.
If you hear the group play a movie theme or a video game theme, it is very likely Kevin's arrangement. If there were ever to be a fancy tie contest on stage, Kevin would win it. If the group is in a hotel room playing a board game or a card game, Kevin is likely winning it.
Along with all the work he does with and for The Cello Project, Kevin devotes a large part of his time to educational outreach and coaching with Oregon youth musical organizations.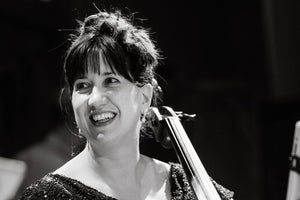 Nancy Ives
Composer and cellist Nancy Ives is a musical icon, having "built a career of such spectacular diversity that no summation will do her achievements justice" (Artslandia). As "one of Oregon's most prominent and accomplished classical musicians" (The Oregonian), Ives enjoys an illustrious performance career that informs her eloquent and enduring compositional style. "Modernistic but melodic and compelling… [with] a refreshing musical breadth, a diverse but integrated approach," Ives' music communicates "a uniquely personal voice" (Oregon ArtsWatch).
By way of an adventurous and multifaceted career -- which includes more than 20 years as Principal Cellist of the Oregon Symphony, collaborations with virtually all of the region's premier performance organizations, and a history of service within the cultural community -- Ives is a gracious and essential cornerstone of musical life in the Pacific Northwest, "a local treasure," according to the Portland Mercury.
Nancy's composition Shard is featured on the Portland Cello Project record To.E.S. and her glorious playing can be heard on many -- if not most -- Cello Project recordings.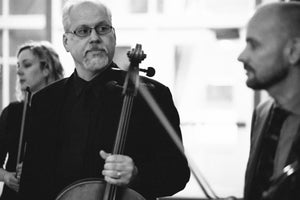 Collin Oldham
Collin made his first appearances with the Portland Cello Project back in 2008 in the most epic way: opening for Buckethead!
Since then he's contributed to most of our recordings, many of our performances, and some of our tours. He's also performed or recorded with The Decemberists, The Minders, Elliott Smith, Aretha Franklin, Rosemary Clooney, Placido Domingo, Richmond Fontaine, and The Delines.
Collin is the featured soloist on The Cello Project's recording of Lua Descolorida by Osvaldo Golijov.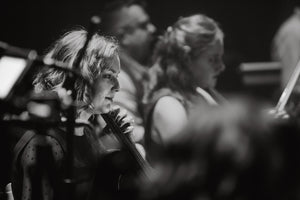 Valdine Ritchie Mishkin
Canadian cellist Valdine Ritchie Mishkin performs with Third Angle New Music, is a founding member of Duo Apaixionado with Peruvian guitarist Alfredo Muro and cello quartet Cellotropes, and moonlights as an extra cellist with the Oregon Symphony. 
A champion of contemporary music, she has premiered or commissioned works by composers such as John Luther Adams, Kenji Bunch, Nancy Ives, and Karim Al-Zand, can be heard on Third Angle Records and Albany Records, and is a frequent guest on All-Classical FM Portland. Beginning studies at age 3 and making her solo debut at age 10 with the Winnipeg Symphony, she has since performed concerti with the Sunnyside Symphony, Chehalem Symphony, Mercury Ensemble and McGill Symphony.
Equally dedicated to pedagogy, Valdine teaches at Reed College and heads a bustling private studio where her students are finalists in local and national competitions and hold ensemble leadership positions. She serves as an adjudicator, coach, clinician, conference presenter, author, and serves on the boards of Third Angle and the Portland Boychoir.  She holds Doctoral and Master degrees from Rice University under Lynn Harrell and Norman Fischer, and a Bachelor degree from McGill University under Antonio Lysy.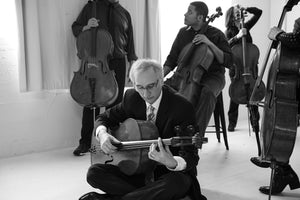 Gideon Freudmann
Cello Project founder Gideon Freudmann is a cellist and composer who has redefined the role of the instrument for over three decades. He is perhaps best known for adapting the amplified cello to craft the distinct 'CelloBop' sound, consisting of a unique blend of classical, jazz, folk, rock, blues and funk. Using foot-operated effect pedals, he has brought cello playing into new territories of looping, soaring, multi-layering and improvisation. His music is complex, nuanced, creative and compelling.
Gideon's compositions are featured in many -- if not most -- Cello Project performances, and the Cello Project recording and video of his piece Denmark has been viewed over 300k times.
Sage Coy
Sage believes that music has the potential to serve as a healing tool for all who interact with it; it soothes, supports and sustains us, while providing space for deep reflection and expression. It challenges us to witness the incredible beauty and immense weight of the duality inherent in life and embodied in the human experience.
Music removes communication from the confines of speech, and creates a clarity that is often elusive.
Sage's music seeks to embody the contentedness that comes with newfound perspective, to evoke thoughtfulness, and to hold the listener in a meaningful moment.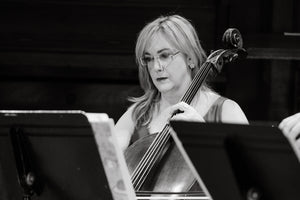 Heather Blackburn
A native of New York, Heather holds degrees from the Peabody Conservatory and Washington State University. She was a member of the Oregon Ballet Theatre Orchestra for six years, and served as acting cello in the Oregon Symphony. She has also participated in numerous summer festivals including the Cascade Music Festival, as assistant principal cello; the Oregon Bach Festival, and the Sunriver Music Festival. A chamber musician in demand, Ms. Blackburn has appeared on many Northwest series including Second City in Tacoma, Mostly Nordic in Seattle, Chamber Music on Tap in Portland and the Ragland Classical Series in Klamath Falls. Last spring Heather was a featured performer with the Oregon Ballet Theatre's company premiere of Opus 50, in 10 performances of Tchaikovsky's Piano Trio. As a founding member of Portland's Ethos Quartet, Heather performed live radio shows on KING FM in Seattle and KBPS FM in Portland. She was lauded by the Oregonian for her "burnished tone" during the quartet's acclaimed Beethoven Cycle.
Of note, Heather and Doug both proudly play on cellos made in the Pacific Northwest by the luthier Paul Schuback.
Heather's wonderful cello playing can be heard on many Cello Project recordings.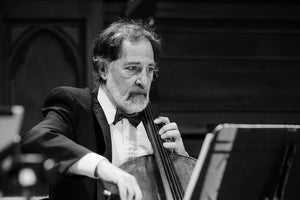 Justin Kagan
Justin also did not have a bio on hand, so Doug wrote one for him.
Founding Cello Project member Justin Kagan has brought his uniquely powerful and commanding sound to the group through thick and thin, from the group's first tour (opening for Buckethead) in 2008, to educational outreach performances that went way longer than they should, to hay-fever-driven summer festivals. His wealth of international performance experience was a grounding, inspirational force for the group early on, and continues to enrich The Cello Project when we're lucky enough to snag him from The Oregon Symphony a couple of times per year.
A true renaissance person, Justin also started a musician-beloved coffee micro-roastery back before it was the thing to do, where the group would rehearse in the early days.